TKT Pakistan | Teaching Knowledge Test Center Pakistan
Posted on: January 19, 2017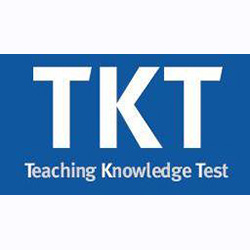 Prove your EFL teaching knowledge with this series of flexible, internationally recognized tests.
TKT is a ideal for teachers who want to prove their knowledge of teaching with an internationally recognized certificate.
TKT is a proof that you are familiar with various teaching methodologies, key aspects of lesson planning, classroom management and know how to effectively use teaching resources.
TKT is a flexible series of modular teaching qualifications. It tests your knowledge in specific English Language teaching areas. You can choose as many modules as you want, over any time period.
For TKT you can either study independently, or take a preparation course face–to–face.
After Completing TKT Training Course, you can take other teaching qualifications of Cambridge English such as ICELT and Delta.
TKT (Teaching Knowledge Test) is a series of modular tests. You can take each test individually and decide how and when you take the tests.
Modules 1–3

A test of knowledge about the principles and practice of English language teaching

TKT: Module 1 
Language and background to language learning and teaching
TKT: Module 2 
Lesson planning and use of resources for language teaching
TKT: Module 3
Managing the teaching and learning process
Specialist modules

An introduction to specialist areas of English language teaching

TKT: CLIL (Content and Language Integrated Learning)
TKT: YL (Young Learners)
TKT: KAL (Knowledge about Language) (to be discontinued from December 2016)
Practical module

A test of your practical English language teaching abilities

TKT: Practical (to be discontinued from December 2016)
Assessment:
You can register to take TKT up to six weeks before a test session. Paper-based tests and the assessment of practical teaching are available on demand. You can contact nearest ICD Center for latest dates and for registration.
How you will be assessed:
| | | |
| --- | --- | --- |
| Module | Test format | Test details |
| Modules 1–3 and Specialist modules | Paper-based test | Each module has one test paper, which lasts 80 minutes and has 80 questions. Each question is worth 1 mark. There are multiple-choice and matching questions. |
| Practical module | Classroom-based test | The assessor will observe either one 40-minute lesson, or two 20-minute lessons. You submit a lesson plan. |
There is no Pass or Fail. Results are reported in Bands 1–4, with Band 4 being the highest. Band 1 represents limited knowledge of the content areas tested; Band 2, basic but systematic knowledge; Band 3 shows a breadth and depth of knowledge and Band 4 extensive knowledge.