TEFL and TESOL in Pakistan
Posted on: January 18, 2017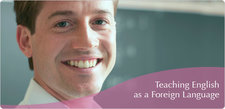 TEFL TDI (Teacher Development Interactive)

Our TEFL qualification aims to provide you with English Language Teaching skills. The program expands and deepens teachers' knowledge and practical skills needed to teach ESL.
You will learn:
·         Strategies and skills for practical classrooms such as lesson planning, classroom management and student assessment
·         To design, manage and implement small group discussions and collaborative projects
·         To practice peer Teaching and observation strategies
·         To work independently and with an online facilitator to practice and learn hands on learning and reflective tasks
Participants may:
Study online
Work online with a facilitator or
Blended learning (Online and face-to-face)
Participants will have to complete 4 modules out of the following six modules:
 Fundamentals of ELT
Reading
Listening
Speaking
Preparing for the TKT
Teaching Young Learners
Course duration: Online, Self-study or online Facilitated, 20-25 hours/module
After the successful completion of each module teachers receive a First TEFL Certificate from the English Language Teaching Institute at Hunter College, City University of New York. See more about City University of NewYork at http://www.hunter.cuny.edu/main/
Note: TEFL and TESOL are equivalent qualifications. The awarded TEFL certificate is acceptable in any and all places that require a TESOL certification.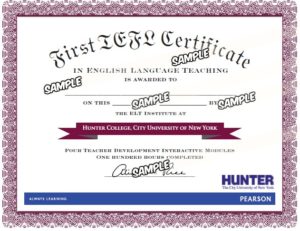 Sample certificate
About Pearson
Pearson Education is a British-owned education publishing and assessment service to schools and corporations, as well as directly to students. Pearson owns educational media brands including Addison–Wesley, Peachpit, Prentice Hall, eCollege, Longman, Poptropica, Scott Foresman, and others.
Pearson is part of Pearson PLC, which formerly owned the Financial Times.
Though Pearson generates approximately 60% of its sales in North America, they operate in more than 70 countries. Pearson International is headquartered in London with offices across Europe, Asia and South America.
Pearson North America is headquartered at 330 Hudson in New York City, New York.
See www.pearson.com for more details. Some popular programs of Pearson in Pakistan are PTE Pearson Test of English; EDEXCEL Qualifications which are accredited by HEC Pakistan  etc.
About Hunter College, City University of New York
Hunter College, located in the heart of Manhattan, is the largest college in the City University of New York (CUNY). Founded in 1870, it is also one of the oldest public colleges in the country. More than 23,000 students currently attend Hunter, pursuing undergraduate and graduate degrees in more than 170 areas of study.
Hunter's student body is as diverse as New York City itself. For more than 140 years, Hunter has provided educational opportunities for women and minorities, and today, students from every walk of life and every corner of the world attend Hunter. More details are at http://www.hunter.cuny.edu