Certificate in Teaching English to Speakers of Other Languages (CELTA)
Posted on: January 24, 2017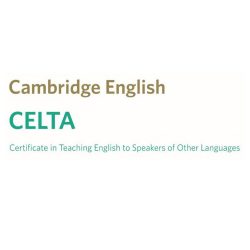 CELTA (offered at Lahore Centre only)
ABOUT THE COURSE
CELTA (Certificate in English Language Teaching to Speakers of Other Languages) by Cambridge University is the most widely accepted and recognized training program internationally that has been running for four decades. CELTA is the most sought after certificate for teaching jobs and opens the doors of opportunities all over the world. Every year over 10,000 people take a CELTA course.
CELTA is an ideal course for recent graduates, people changing career, and teachers who want a formal English language teaching qualification and may wish to acquire a higher level qualification like Delta later.
CELTA gives you:
Practical English Language Teaching Knowledge
Real-time Classroom experience and hands-on teaching
Ability to take on teaching challenges confidently
Skills required for teaching jobs anywhere in the world.
Tools to continue developing your skills as a teacher
Key Facts
Format:             Face-to-Face
Assessment:      Written assignments and assessed teaching practice
Duration:          4 weeks.
Class Timings: Monday to Friday: 9 am to 5 pm
The course of 4 weeks is divided up as follows:
Input sessions (60 hours face-to-face)
Teaching Practice of 6 hours (observed by experienced foreign Cambridge tutors)
Supervised lesson planning (usually with what and how to teach guiding points)
teaching practice feedback (group format; tutor and peers)
Peer observation teaching practice (self-evaluation and peer discussion of your teaching)
Tutorials (at least twice during the course in consultation with tutor)
Four written assignments (designed to support and reflect what you do in the classroom)
6 experienced teacher observations (4 face to face observations and 2 remote)
Coursework and teaching are internally assessed and externally moderated by Cambridge English.
Results
A certificate from Cambridge English at the levels of Pass A, Pass B or Pass.
Course fee:
Application processing Fee: £ 25        (Payable at the time of Admission Test)
Course Tuition  fee: £ 1500                 (£500 to be paid within one week after qualifying for admission and getting the offer letter.
£1000 to be paid at least 2 weeks before the course starting date.(payable in installments before this deadline)
[ICD would be happy to recommend you a good reasonable accommodation which would cost between Rs. 25,000 to 35,000 for the whole month, if required. However, we would not take responsibility of the accommodation and you would be required to pay directly and not through ICD]
What our Tutors have to say about themselves:
Ms. Missy Blanchard

I'm from the United States and I do face to face CELTAs around the world. Apart from my experience in US and Canada I have also worked in a number of Middle Eastern, South Asian and European countries. From the Academic Director of Projects at American Lebanese Centre in Beirut I have just landed in Boston for a course. I have tutored a lot of Pakistanis in these countries and it has been a great experience. Now I am looking forward to visit Pakistan for the first time and I am really enthusiastic about doing a course at ICD. The best thing about it all is that I love what I do and know that I am incredibly lucky to be able to say that.
Ms. Jacqueline Hadel
I am a Native American National and not the one to write about myself in third person so I would just tell you who I am as is. My experience working in Education has focused on English language teaching to speakers of other languages and teacher training and development. My academic qualifications include a Master in Education from Clemson University and Certificate in Online Learning and Teaching. I am an accredited CELTA Trainer but I am also a world traveler, blogger, photographer, and author. At the moment, apart from doing CELTAs around the world, I am specializing in documentation of street art and graffiti around the world. You will find me to be a positive and energetic teacher trainer who believes in "enjoying the process." I am absolutely thrilled about doing a course in Pakistan at ICD and looking forwarding to meeting you all.
For career prospects after doing CELTA – See http://www.cambridgeenglish.org/news/view/three-quarters-of-elt-jobs-ask-for-cambridge-celta/
Three quarters of ELT jobs ask for Cambridge CELTA
A study of 600 English language teaching job adverts in over 60 countries has revealed that Cambridge Assessment English's CELTA is the qualification most often requested by employers.
CELTA is requested by 71.5 percent of employers in Europe, the Middle East and Africa, compared to just 23.6 percent asking for CELTA's nearest equivalent the Trinity CertTESOL.* The data from the study further reveals that, in the UK, 88 percent of jobs that require an ELT qualification specifically ask for a CELTA qualification.
Dates for upcoming CELTA courses
Jan 2020 – exact date will be posted nearer to course 
We are accepting applications for these dates. 
Note: These dates are tentative and will be reconfirmed closer to start of course.
COURSE REQUIREMENT
Candidates should be:
At least 20 years of age
C1 level or above in English
Have a teaching aptitude
Dedicated, passionate and motivated individuals
THE REGISTRATION PROCESS
Please submit your application by filling out the application form.
The short-listed candidates will submit Admission Processing Fee and appear in the admission test. (This can be in the city of your residence)
Short-listed candidates will have an interview.
The following students will go directly to interview stage:
Students with a valid IELTS score of 7.5 bands or above
Students with a valid TOEFL score of 102 or above
Students with a C1 level in CAE
Students with a valid 73 score of PTE A or above
Students with a Pass in PTE G, Level 5
Please note that there are limited seats on the course and admission interviews will be conducted on first come first serve basis.
The initial candidates qualifying for the course will be registered.
The application short-listing process may take up to 4 weeks.