EMI-English as Medium of Instruction
Posted on: January 18, 2017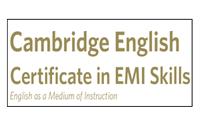 Post-graduate course in English as medium of instruction (EMI) Skills
Cambridge English Certificate of EMI skills helps Higher Education Institutions (HEIs) to deliver courses successfully in English, this English language course is for academic staff whose first language is not English. It helps improve teaching quality and supports internationalization.
Overview and outcomes
Our Certificate in EMI Skills course is for higher education teaching staff. It improves English language proficiency, develops awareness of students' language issues and explores different methodological approaches to instruction in a foreign language.
By the end of the course, participants will:
-be able to use English more effectively
-know a variety of language options to use in different teaching situations, from lectures to tutorials
-have improved their skills in delivering instruction in English to students from a range of cultural backgrounds.
Format
-Online course with:
• Engaging content
• Video demonstrations
• Interactive tasks.
-Optional face-to-face tutor-led sessions focusing on speaking and writing skills.
Flexible online course content
Participants will use content from a range of academic disciplines to learn the language they need to teach with confidence.
The eight modules have a practical, communicative focus and can be completed in any order.
Module 1 – Language for lectures
Module 2 – Language for seminars
Module 3 – Language for small groups and practical sessions
Module 4 – Language for tutorials and supervision
Module 5 – Language for communicating online
Module 6 – Language for evaluation and feedback
Module 7 – Language for developing and extending professional roles
Module 8 – Language for fulfilling professional responsibilities
Each module is also available separately.
What kind of course is it?
It is a blended learning course with face to face sessions along with the online activities, in-course progress tests  and assignments to complete.
Who is the course for?
The course is for subject and language teachers using English as a medium of Instruction.
What is the course like?
The course consists of 8 modules. Each module has a 3 hour face to face session and 5 hour online activities, in-course progress tests and assignments to complete.
Each module focuses on the different situations lecturers interact with students. All the modules have a practical communicative focus.
What level of language is required for you to enrol yourself in the course?
The course is aimed at teachers with at least a B1 level of English according to the Common European Framework of Reference (CEFR).
What are the number of hours required for each module?
3 hours face to face session and 5 hours online work. You may request a private consultation session with your tutor, for any module during the course. Also, you may spend more (or less) time on the online session, if required. However, you will be required to complete your tasks nonetheless.
Which browser do I use for the online course work?
We recommend that you use Mozilla Firefox. A technical guide will be available at the course beginning.