Train the Trainer
Posted on: July 2, 2019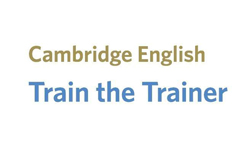 Train the Trainer
Develop English teacher training capacity.
Train the Trainer is a face–to–face course for experienced teachers.
Participants develop the knowledge and skills they need to train English language teachers working in primary and secondary schools. They learn how to run training sessions, observe teaching and give feedback.
Train the Trainer is at Proficient to Expert stages on the Cambridge English Teaching Framework.
Teachers who successfully complete the Train the Trainer course will get certificates and can become trainers for the CELT-P and CELT-S courses.
Institute of Career Development, authorized center for Cambridge English and the only CELTA center in Pakistan, is now organizing Train the Trainer course, by Cambridge, after successfully running its first session in March 2019.
The Train the Trainer course helps you to:
design and deliver teacher training sessions and courses
observe other teachers and give supportive feedback
understand how to develop further as a trainer.
Reasons to choose Train the Trainer:
Develop skilled local teacher trainers using Cambridge English expertise.
Build sustainability into teacher development programs
Enables delivery of Cambridge Teaching Qualifications
Gives experienced teachers the opportunity to extend their skills and experience.
Trainer: Missy Blanchard, USA. See Missy Blanchard's profile and watch Missy's comments during her last visit to Pakistan.
Venue: Institute of Career Development, Lahore (ICD may suggest suitable accommodation near center, if needed)
Watch this video to see what our participants have to say about Train the Trainer course:
There are six Train the Trainer modules. All six modules have a practical focus
| | |
| --- | --- |
| Module | Outcome by the end of the course |
| 1. The training class | Participants will understand key issues in trainer development. |
| 2. Analyzing and designing training sessions | Participants will have developed skills to plan effective teacher training sessions. |
| 3. Delivering training sessions | Participants will have developed the skills to deliver effective teacher training sessions. |
| 4. Observing teachers | Participants will have developed an understanding of good practice in observing teachers. |
| 5. Managing feedback | Participants will be able to give supportive feedback to teachers and priorities key strengths and areas for development. |
| 6. Course planning and trainer development | Participants will be able to design courses and an action plan for their further development as a trainer. |
Course Dates: 
Train the Trainer LAHORE – 22 to 26 Feb 2020
Fee:                 £325 (Payable as per enclosed payment sheet)