Graduate Record Examination (GRE)
Posted on: February 25, 2019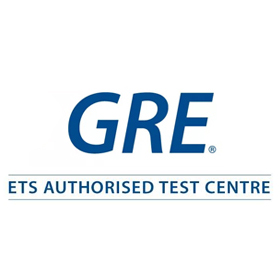 Graduate Record Examination (GRE)
The GRE test is a standardised test that is an admission requirement for graduate level in the United States and is administered by Educational Testing Service (ETS).  The aim of this test is basically to measure the verbal reasoning, quantitative reasoning, critical thinking, and analytical writing skills of a student.
For more than 60 years, GRE scores have been used by admissions and fellowship panels at thousands of graduate programs around the world to supplement the applicant's undergraduate grades and other qualifications for graduate studies.
Type:        General test  ( Computer Based )
Testing Skills:   Analytical writing,   quantitative reading and verbal reasoning
Purpose:  Admissions to master's and      doctoral degree programs in the various universities
Score/grade range: Analytical writing: 0.0 to 6.0 (in 0.5-point increments),
Verbal reasoning: 130 to 170 (in 1-point increments), Quantitative reasoning: 130 to 170 (in 1-point increments).
Validity: 5 Years
Website: www.ets.org/gre
Role of ICD in GRE
ICD centers:
Lahore ICD: 107 Mumdot block, Mustafa Town.
Karachi ICD: suit # 2, Mezzanine floor, Ahmer Arcade, Adjacent HBL Opposite Rehmat Shirin 172 – U, Main Tariq Road, P.E.C.H.S Block 2, Karachi.
Who can take this test?
The applicants of graduate and business school from all around the world who are interested in pursuing a master's, MBA, specialized master's in business, J.D. degree, or doctoral degree take the GRE General Test.
GRE scores are used by admissions or fellowship panels to supplement your undergraduate records, recommendation letters and other qualifications for graduate-level study.
Where it is accepted?
Thousands of graduate schools, including business and law, as well as departments and divisions within these schools accept the GRE general test.
See the list of institutions and fellowship sponsors approved to receive GRE scores.
The following sections measures your ability in different way:
Verbal Reasoning

Helps to  analyse the conclusion of incomplete data; identify author's assumptions and understand different levels of literal, figurative and author's intent

Quantitative Reasoning

Recognise quantitative information

Analytical Writing

Complex ideas are expressed clearly affectively and ideas are thoroughly supported with accurate reasons and example

Distinguish relevant points; summarize text and understand the structure of a text

 

Mathematical models are used to solve the problems

Examine claims and accompanying evidence.

Also sustain a well-focused, coherent discussion

Make sure the meaning of words, sentences, concept of words and whole text is understandable

Elementary concepts of arithmetic, algebra, geometry and data analysis and basic skills are applied

*This section will include an onscreen calculator

Elements of standard written English are controlled

*The Analytical Writing section requires you to provide focused responses based on the tasks presented, so you can accurately demonstrate your skill in directly responding to a task.
Structure of the Computer-delivered Test
Measure
Number of Questions
Allotted Time
Analytical Writing
(One section with two separately timed tasks)
One "Analyze an Issue" task and one "Analyze an Argument" task
30 minutes per task
Verbal Reasoning
(Two sections)
20 questions per section
30 minutes per section
Quantitative Reasoning
(Two sections)
20 questions per section
35 minutes per section
Unscored¹
Varies
Varies
The overall testing time for the computer- delivered GRE® General Test is about three hours and 45 minutes. There are six sections with a 10-minute break following the third section.
 General ID Document Requirements
Each document must be an originaldocument; photocopied documents are not acceptable and documents cannot be presented on a cell phone or any other electronic device
government-issuednational/state/province identity card is acceptable
be valid; expired documents are not acceptable
Documents should have your first and last nameexactly similar to registered name for the test. If it doesn't not bear your first name, it will not be accepted
Documents must include a recent, recognizable photograph
All documents should include your signature(the name and signature on the ID document must match)
Draft classification card , International driver's license, credit/debit card of any kind, Notart- prepared letter or document or Birth certificate will not be accepted as primary or supplementary ID under any circumstances
Birth certificate
Social security card
Employee ID card
Temporary ID (excluding driver's license, resident card and employment authorization card renewals)
Diplomatic, consulate or embassy ID card
Any document that is not recognized by a government agency
Unable to Meet ID Requirements
If you are in any case unable to meet the identification requirements, you must contact the ETS Office of Testing Integrity (OTI) at least seven days before registering to test. You must receive approval from OTI before you may register. You should also be prepared to submit any requested documents to OTI for review prior to receiving approval. If you do not contact OTI before you register, and as a result you are not permitted to test or your test scores are withheld, your test fees will not be refunded.
ETS Office of Testing Integrity (OTI)
Email:
Phone:
1-800-750-6991 (United States, U.S. Territories and Canada)
1-609-406-5430 (all other locations)
Monday–Friday 7:30 a.m.–5:30 p.m. ET
Fax:
1-609-406-9709
ID Verification
ID verification during check-in at the test center may include:
Biometric voice and photo identification
Fingerprinting/thumb printing
Videotaping
Signature comparison
If you refuse to participate, you may not be permitted to test and you will forfeit your test fees. This is in addition to the requirement that you must present acceptable and valid identification.