ACT Exam Pakistan
Posted on: January 7, 2018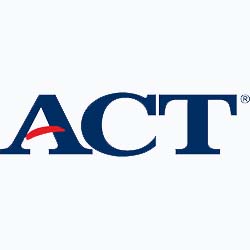 ACT – American College Testing (ACT exam Pakistan) is a mission-based nonprofit organization devoted to help people achieve education and workplace success. Its home page www.act.org/ has wealth of information. The ACT has seen a gradual increase in the number of test takers since its inception, and in 2011 the ACT exam Pakistan surpassed the SAT for the first time in total test takers; that year, 1,666,017 students took the ACT and 1,664,479 students took the SAT. All four-year colleges and universities in the U.S. accept the ACT, but different institutions place different emphases on standardized tests such as the ACT, compared to other factors of evaluation such as class rank, GPA, and Extracurricular activities.
The main four tests are scored individually on a scale of 1–36, and a composite score is provided which is the rounded whole number average of the four scores.
The required portion of the ACT exam Pakistan is divided into four multiple choice subject tests: English, Maths, Reading and Science.. Subject test scores range from 1 to 36
Time is a major factor to consider in testing.
The ACT exam Pakistan is generally regarded as being composed of somewhat easier questions versus the SAT , but the shorter time allotted to complete each section increases the overall difficulty (equalizing it to the SAT). The ACT allots:
45 minutes for a 75-question English section
60 minutes for a 60-question Mathematics section
35 minutes for a 40-question Reading section
35 minutes for a 40-question Science section
ACT EXAM PAKISTAN
Comparatively, the SAT is structured such that the test taker is allowed at least one minute per question, on generally shorter sections (25 or fewer questions). Times may be adjusted as a matter of accommodation for certain disabilities or other impairments.
ICD is ACT preferred partner in Pakistan. ACT took the concept of readiness—initially for college, and then for career—forward and haven't lost sight of these ultimate goals ever since. ACT is best known that also produces a number of other education and work skills assessment programs designed to help improve college and career readiness.
Center for ACT Exam in Pakistan
ICD is preferred partner for ACT exam Pakistan and its allied products in Pakistan. ICD not only manages exam centers in Karachi, Lahore and Islamabad but also provide ACT prep products like ACT Official Guide, ACT Online Practice (AOP) and Pre ACT exams. Contact ICD at info@icd.org.pk if you have any specific request, want  to register for exam or buy ACT prep product.
The ACT test is relevant to Pakistani schools and students because it gives them a choice: for students looking to study overseas, the ACT test may provide those comparatively higher scores, and/or scholarship dollars. The ACT test is accepted at all universities and colleges across the US—including the Ivy League, and also at more than 230 universities across the globe, including the prestigious Russell Group. Besides helping students prepare for college, the ACT test provides career guidance information, helping students see what college majors and careers best match their interests and skills. It also provides feedback on how students' scores relate to readiness for the workforce, and how their interests and major choices line up with possible career paths.
The ACT measures what you've learned in school in English, mathematics, reading, and science, so the best way for students to prepare for the ACT exam Pakistan is to study hard and learn the materials covered in your classes, with a strong background in English language. Typically, the ACT exam/test Pakistan is administered to students in grade 11, so they have enough time to retake the test if they like before submitting applications to their universities of choice by the required deadline.
ACT Exam Centers are located in major cities i.e., Lahore, Karachi & Islamabad. Your exam center name and address will be communicated to you once you register for exam.
ACT EXAM DATES
For current dates and deadlines visit this link
ACT Computer Based Testing format. See below CB ACT tentative dates for 2019
| Friday Test Dates | Saturday Test Dates |
| --- | --- |
| | |
| February 8, 2019 | February 9, 2019 |
| April 12, 2019 | April 13, 2019 |
| June 7, 2019 | June 8, 2019 |
 Kindly contact ICD for dates open in Pakistan or visit ACT web site 
ACT Exam Preparation Pakistan

ACT exam Pakistan preparation tools are available in Pakistan through its preferred partner ICD.
Latest offers are listed at ACT Exams Center Pakistan web page https://www.act.org/content/act/en/products-and-services/the-act/test-preparation.html
ACT Exam Format
| | | | |
| --- | --- | --- | --- |
| Section | # of Questions & Time Limit | Content/Skills Covered | Question Types |
| English | 75 questions in 45 min. | grammar & usage, punctuation, sentence structure, strategy, organization, and style | four-choice, multiple-choice usage/mechanics and rhetorical skills questions |
| Math | 60 questions in 60 min. | pre-algebra, elementary algebra, intermediate algebra, coordinate geometry, plane geometry, and trigonometry | five-choice, multiple-choice questions |
| Reading | 40 questions in 35 min. | reading comprehension of what is directly stated or implied | four-choice, multiple-choice referring and reasoning questions |
| Science | 40 questions in 35 min. | interpretation, analysis, evaluation, reasoning, and problem solving | four-choice, multiple-choice data representation, research summaries, and conflicting viewpoints questions |
| Writing (optional) | 1 essay in 40 min. | writing skills | essay prompt |
https://www.princetonreview.com/college/sat-act
SAT vs ACT

Many students and parents begin the college prep process by comparing the ACT and SAT. Two of the most common questions they ask are:
Is the ACT easier than the SAT?
Do colleges prefer scores from the SAT or ACT?
The SAT and ACT generally test the same types of content. Both ACT and SAT scores are used for college admissions and merit-based scholarships. The biggest differences between the tests are that the ACT has a Science Test, and there's one SAT Math Section for which you cannot use a calculator. Colleges don't prefer one over the other, so explore both tests to decide which one is right for you.
 
SAT
ACT
Why Take It
Colleges use SAT scores for admissions and merit-based scholarships.
Colleges use ACT scores for admissions and merit-based scholarships.
Test Structure

Reading
Writing & Language
Math
Essay (Optional)

English
Math
Reading
Science Reasoning

Essay (Optional)

Length

3 hours (without essay)
3 hours, 50 minutes (with essay)

2 hours, 55 minutes (without essay)
3 hours, 40 minutes (with essay)

Reading
5 reading passages
4 reading passages
Science
None
1 science section testing your critical thinking skills (not your specific science knowledge)
Math
Covers:

Arithmetic
Algebra I & II
Geometry, Trigonometry and Data Analysis

Covers:

Arithmetic
Algebra I & II
Geometry and Trigonometry

Calculator Policy
Some math questions don't allow you to use a calculator.
You can use a calculator on all math questions.
Essays
Optional. The essay will test your comprehension of a source text.
Optional. The essay will test how well you evaluate and analyze complex issues.
How It's Scored
Scored on a scale of 400–1600
Scored on a scale of 1–36
ACT versus SAT: How do I choose?
The best way to decide if the SAT or ACT is right for you is to take a timed full-length practice test in each. Since the content and style of the SAT and ACT are very similar, factors like how you handle time pressure and what types of questions you find most challenging can help you determine which test is a better fit. For example, the pace of the SAT gives you a tad more time to think through problems, while the ACT can be more of a time crunch. Some students really thrive under the pressure of the clock, while others prefer the extra time to ponder a questions.
Latest Fee is at this link
For more information
ICD Pakistan do have Exam Vouchers, Online prep tools and Official ACT Guide at discounted rate. We also offer Pre ACT exams at select locations in Pakistan on request of schools and institutions.
For ACT exams Pakistan contact
ACT Coordinator
Institute of Career Development
UAN: 03111-999-100 or Email us at info@icd.org.pk